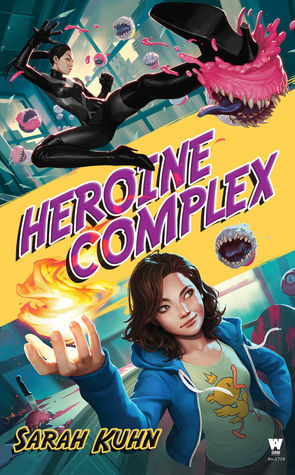 Anyone who enjoys the humor behind major celeb drama, snarky heroes and heroines, urban fantasy/super powers, and a bit of a romantic relationship mixed in for good measure - this is your next read. No, I don't have super psionic powers and I'm not using a Vulcan mind meld to perceive your thoughts, this is just a good old-fashioned prediction. Who could resist a story with fanged demonic cupcakes, heroines having meltdowns and punching holes in their heavy bag during a workout, celeb bloggers taking little digs at everyone they write about, and a major battle during a karaoke contest?
Evie is personal assistant and BFF to Aveda Jupiter, demon fighter and darling of San Francisco. Since the day that a portal was opened into San Fran eight years ago, several humans who were in close proximity to the gateway have manifested super powers. Aveda took this as a sign that she was destined to protect her fair city and has become the favorite supe of all the fanboys and fangirls in town. Evie keeps up with her schedule of personal appearances, handles fan mail, and goes along to record every demon butt-kicking session to post on Aveda's website. She also is busy running the entire HQ, liaising with the supernatural division of the police department, trying to raise her teenage sister, and dealing with all Aveda's diva meltdowns.
But there are secrets beneath the surface of Evie's calm demeanor, and when she has to pose as Aveda for a short while, things start to spiral out of control in her life. And she's not the only one with hidden depths. It seems that her younger sister Bea, her friend Scott, Nate (the resident scientist for Team Jupiter), and even some of their acquaintances around town also have secrets. When everything is revealed, epic meltdown doesn't even begin to cover it.
Some of the things that really work for this story: (1) heroic figures that are not white or male; (2) humor - fanged cupcakes, remember; (3) there may be super powers, but the characters are still human and all those foibles and messy relationships are included; (4) the snarky factor, from many different characters; and (5) the adorably awkward romantic interest that develops between two of the characters.
Highly recommended for fans of shows like "Buffy" or "Supernatural", who don't mind humor mixed in with the demon slaying, as well as all the readers out there who love stories with super powers and attempts at world domination (and did I mention the fanged cupcakes?). Meant for YA and up intended audience. There are intimate encounters and language of the four-letter variety.
I read an e-book provided by the publisher through NetGalley.