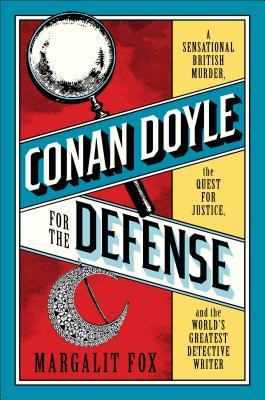 Mystery and true crime readers, this is a double treat. A complicated story of police malfeasance, perjury, witness tampering, wrongful prosecution, conviction and imprisonment - and it's all true! Author Margalit Fox has crafted a narrative that explains the crime, the actions of the law enforcement and judicial persons involved in the arrest and trial, and how Conan Doyle came to be involved. But the book also grounds the entire case in the social milieu of the times, explaining the prevailing attitudes and prejudices that fed into the situation and resulting injustice.
Examples from various Sherlock Holmes stories are interwoven, along with quotes from other researchers and writers who have traced the threads of the story, remembrances of Adrian Conan Doyle and even copies of letters from the convicted man to his family and friends. Taken together, it paints a picture of a time when it was common for "the conflation of foreignness with criminality, a contrivance used to justify identifying, marginalizing, and punishing the convenient Other." Perhaps readers might even notice some similarities between the climate 100 years ago and that of today.
Highly recommended for those interested in legal history, murder mysteries, and all things Conan Doyle. I read an e-book provided by the publisher through NetGalley.