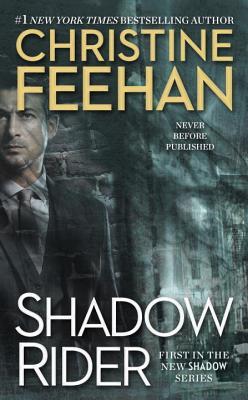 Fans of Christine Feehan's blend of intrigue, action, and paranormal romance will now have a new series to keep up with -
Shadow Rider
is the first in her Shadow series. The story features Stefano Ferraro and Francesca Capello as the main romantic interests, but the entire Ferraro family and other characters from their neighborhood play a large part in the story. The Ferraros live in Chicago and Francesca attracts Stefano's attention soon after she arrives to see her friend Joanna Masci and apply for a job in the deli owned by Joanna's uncle. Stefano isn't just attracted because Francesca is a beautiful woman, but because he realizes that she has the ability to be a shadow rider just like his family. The chemistry between them is explosive, even though Francesca suspects that his family is part of the Mafia.
It's true that Stefano, his siblings, and even his extended family of cousins are involved in something outside the law. They use their secret ability of traveling through the shadows to do the impossible and they work hard. The paparazzi documents that they certainly play hard, but that is all part of their plan. Just as a stage magician might use some sleight of hand and some razzle-dazzle to distract the audience from his secrets, the Ferraros use their glitzy life style to make sure that no one will ever suspect what they really do. With the trauma and betrayal that lies in Francesca's past still following her, will she be able to accept the secrets and strict rules that being in Stefano's life will require?
Feehan's talent for creating strong male protagonists who have heavy responsibilities, extraordinary abilities, and a hard-wired need to protect women and children is evident in her latest new series. Stefano and his family all have abilities that place them outside the range of "normal" humans and their family traditions require them to train and follow expected roles. Their work includes a heavy emotional burden that finding a soul mate can help them to bear. Just as the Carpathians have a lifemate, the Leopard people have a mate that they find lifetime after lifetime, and the Ghost Walkers have a destined mate that perfectly matches their abilities, the Shadow Riders can also sense when someone is compatible and would be able to produce children with them to carry on the family "business." But just because something is fated, doesn't mean that it will be easy. Then again, if you don't have to work for something, you might be tempted to take it for granted.
Readers who enjoy paranormal romance in general and Feehan's style in particular will be happy to add this series to their shelves.
I read an e-book provided by the publisher through NetGalley.