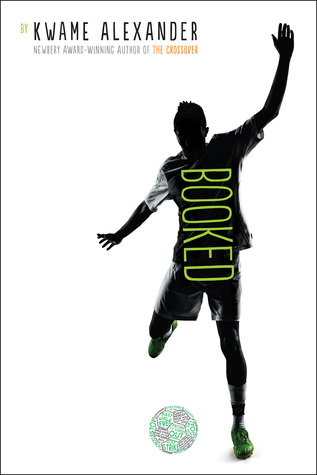 OH. MY. GOODNESS. What an incredible book. It takes middle school, a soccer crazy boy, his best friend, his parents, his crush, two bullies, and a couple of teachers (including an awesome librarian), and then presents it in poetry. But it doesn't even register in your brain as poetry because you are so caught up in what is happening to Nick. There are confrontations with the bullies. Working up his nerve to ask April out. Soccer games leading up to the Dallas Cup. His parents and their trial separation. His mother taking a job out of state. And conversations with Mr. Mac, the former rapper who is the librarian at Langston Hughes.
I love the character of Nick, with his love of soccer and his grumbling about being forced to read his father's dictionary of unusual words. Of course the English teacher loves having him in class with his "wordsmith" abilities, but he would rather be playing video games or practicing soccer than reading. The amazing librarian is probably my favorite in the book. His shirts with their wacky sentiments such as "similes are like metaphors" or "I like big books and I cannot lie," show his personality so clearly. This is someone who knows and cares about the kids and wants to connect with them, and also to connect them with the right book to get them hooked.
Although Nick's father collects unusual words, and Nick himself has an amazing vocabulary, it is the author himself who is the true wordsmith. His poetry captures so much of being a young teenager so well. When Nick learns of his parents' separation, the text reads, "It does not take a math genius to understand that when you subtract a mother from the equation what remains is negative." Could the situation and Nick's reaction to it be stated any more clearly? Rather than chapters and chapter headings, each poem has its own title. I especially liked "Books You Find on Google" (which is made up of book titles), and the Langston Hughes allusion, "What happens to a dream destroyed?"
After reading a book written in verse, Nick has the same reaction to it that I had to
Booked
: "The poems were cool. The best ones were like bombs, and when all the right words came together it was like an explosion."
Fans of Alexander's Newbery winning
The Crossover
, as well as those who enjoy other books in verse like "All the Broken Pieces" and "Out of the Dust," will be adding this to their list of favorites. A recommended read for anyone who enjoys books in verse, soccer, or realistic fiction.
I received an advance copy from the publisher for review purposes.