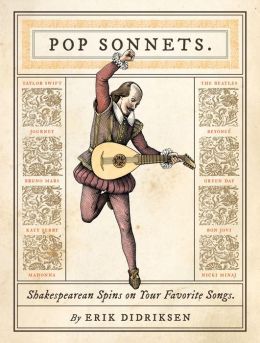 Thou spinnest my head right round, right round, Erik Didriksen.
I have had the most fun reading these sonnet versions of pop songs. After the first page, I made it into a game. I would cover the song credits listed below the poem and try to guess which lyrics had inspired each sonnet. And I laughed out loud while reading them, but who wouldn't laugh at "The Fresh Prince of Bel-Air" rendered in Shakespeare's style?
Presented as a cache of long-lost sonnets by Shakespeare that have been mined for lyrics by the music industry since the 1950s, these clever rewrites mimic the Bard's style while staying true to the content of the original performers. There are sections for Sonnets of Love, Sonnets of Despair, Songs of Time and Mortality, Songs of Rogues, Rascals, and Wanton Women, and Ballads of Heroes. And there is something to appeal to everyone's taste. Sources range from Elton John to Daft Punk, and Chuck Berry to Meghan Trainor. Can you imagine Shakespeare penning "All About that Bass"?
This is perfect for poetry and Shakespeare lovers, fans of pop music and pop culture, and readers who have come to love the mashups (like
Pride and Prejudice and Zombies
), where old meets new in a refreshing way. Picture using this as a hook for a language arts lesson and having students try to identify the original songs from these retrofitted versions. Or perhaps you would like to have them choose a favorite song and construct their own sonnet, after reading these as model texts. Whatever you did with it, it would definitely make an impression.
I think I need a copy of this to read on days when I am feeling a bit disheartened. Seeing "Thriller" turned into a sonnet should set my world to rights quickly enough.
I read an e-book provided by the publisher through NetGalley.