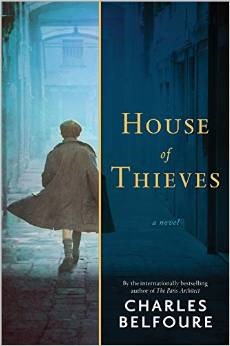 Imagine that you are a successful architect with a comfortable life in the fashionable world of the Astors and other wealthy families in 1886 New York. Reputation is everything - there can be no hint of scandal, no deviation from the strict code of conduct, or the entire family will be ruined. Now suppose that you learn your son, who has just graduated from Harvard with a bright future ahead of him, has been indulging in a gambling habit that has him owing thousands to some very unsavory characters. What would you do to save his life? The lives of the entire family, as well as their social standing? In the case of John Cross, you will do whatever it takes, even if that means using your knowledge of the homes you have designed or visited as a guest to help those shady figures plan robberies.
As readers travel deeper into the society scene and the coarser underworld of late nineteenth century, they will be amazed at the double standards, the lack of social programs for the poor, and the amazing number of secrets being kept by every member of the privileged upper class. Those who enjoy historical fiction with intrigue and danger mixed in, or who are fascinated with the class system seen in shows like "Downton Abbey" will enjoy this trip into the Big Apple's past. And I can honestly promise that the story ends with a monumental showdown.
This is written for YA and adult readers, and contains references to things like opium dens and bawdy houses not appropriate for a younger crowd. I read an advance copy provided by the publisher for review purposes.
Here is a video with the author: https://www.youtube.com/watch?v=1WvaNf_OsTE&feature=youtu.be.